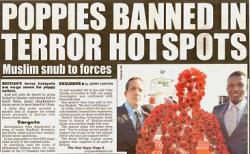 ENGAGE has sent a letter to the Press Complaints Commission concerning the headline in the Daily Star on 6 November, Poppies banned in terror hotspots. The letter states:
"The use of the term 'banned' in the headline is clearly inaccurate and misleading given that there is clearly no ban in operation at all. The headline obviously contravenes Clause 1 of the PCC's Code of Practice.
"In addition, we would argue that the headline was designed deliberately to incite anti-Muslim prejudice – a practice that Richard Desmond's papers seem to indulge in day in and day out, sadly without any censure from the Press Complaints Commission."
The full letter can be read here.