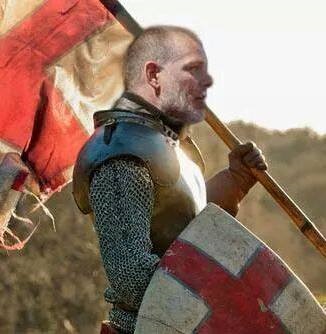 A far-right shock jock operating a pirate radio station out of house in Herne Bay has been raided by police.
Officers burst into Davey Russell's detached home near the Queen Victoria Memorial Hospital. Broadcasting and communications watchdog Ofcom led the raid, which saw radio equipment removed from the house.
Russell, 44, is a leading member of the English Defence League (EDL) and runs what he calls an internet talk/rant show on his station Motiv8 Radio.
In a camera rant on his Facebook page following his arrest, Russell says strange lines and messages began appearing on his computer in the days before his arrest. "I am being severely looked at," he says. "It's not good people. Something has got to be done. Do you understand? Something has got to be done."
Russell also tells his 3,500 followers that 14 police officers and five Ofcom officials came to his house while he was in bed and seized equipment, including a mixer, a hard drive, a computer and a transmitter with a reach of five miles.
"This has all but wiped me out," he says. "It was overkill. This is not a big outfit, but it's something we have to suffer. We are not earning money out of it. I might just get a slap on the wrist and get the kit back, most of which is my disabled son's. But this has been an attempt to silence us."
Ofcom and Kent Police say the raid was carried out because Russell, a married father-of-two, was suspected of breaching section 35 of the Wireless Telegraphy Act 2006. The section of the Act relates to installing, using or establishing a station for wireless telegraphy without a valid licence.
Ofcom spokesman Emma Hutchinson said: "Illegal broadcasts, or pirate radio stations cause harmful interference and can affect critical services including air traffic control, police and fire services. They also disrupt legitimate radio stations. For these reasons, Ofcom undertakes enforcement action against illegal stations."
Russell, who dubs himself DJ Bossman, insists he has no intention of paying any money for a valid radio broadcast licence.
He has interviewed former British National Party leader Nick Griffin and Tommy Robinson, the former head of the EDL, on his radio station, which has been active for five years.
A union-backed activist group Hope Not Hate has been monitoring Russell. It says he has been trying to manoeuvre himself into the EDL's top job following Robinson's departure, but says the group is now fractured by internal division.
Hope Not Hate organiser Duncan Cahill said: "The EDL are a fading force in far-right politics beset with endless internal conflicts which is welcome news for the many communities around the country who have endured unacceptable levels of violence and intimidation.
"The number of people attending their demos has been decreasing for the last couple of years – apart from after the tragic murder of Lee Rigby and the aftermath of the Rotherham grooming scandal. The arrest of David Russell for illegal broadcasting is welcome news and I'm sure a relief for the people of Herne Bay."
Russell is due to answer bail at Canterbury police station on February 17.