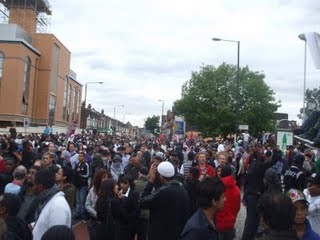 "This is the story that the news should be telling you, but probably isn't. I was there, so I will tell you. I have rarely been so heartened in my political life.
"The English Defence League, whose marches have been wreaking chaos in Luton and Birmingham, attempted to target a mosque in Harrow today. Their official aim was to demonstrate outside the mosque in opposition to 'Islamic extremism'.
"That this mosque has no connection with Islamic extremism tells you that any mosque would have sufficed for their purposes. As their organisers have explained, they believe that Islam itself is inherently extreme.
"I believe only few dozen of their activists actually made it to Harrow, but I can't say for certain, because I never laid eyes on a single one. Where these fascist provocateurs intended to 'protest' were thousands of antifascists attending the UAF's counter-demonstration."
Lenin's Tomb, 11 September 2009
See also "SIOE demo called off!", SIOE website, 11 September 2009
Update:  See UAF statement, 12 September 2009
And pictures of the Harrow events here.