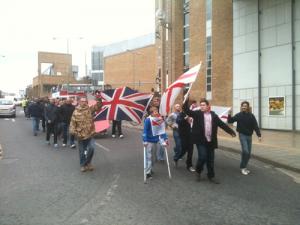 A man accused of being part of a gang that allegedly threw beer at and urinated on a mosque after a march against Muslim extremism has pleaded not guilty to two charges.
David Morris, 20, of Elm Way, Epsom, pleaded not guilty to one count of affray and one count of religiously aggravated criminal damage at Kingston Magistrates Court today (April 7). Appearing in court with a shaved head and wearing a light blue polo shirt he spoke only to confirm his name, date of birth and enter a plea.
The attack is alleged to have happened following a march through Kingston town centre [pictured] against Muslim extremism in November last year. The march had been organised via facebook and during the incident outside the mosque the men are alleged to have also placed bacon on cars outside the building.
Terence Earl, 31, of Aspen Lane, Northolt also pleaded not guilty to the charges. Alfie Wallace, 18, of Hetherington Road, Shepperton; Paul Abley, 24, of Hounslow Road, Shepperton; Karl Matthews, 20, of Brentford High Street and Adam Khalfan, 18, of Feltham Road, Ashford, all declined to enter a plea to the same offences. They will all appear before Kingston Magistrates on May 23 for a committal hearing.
All were granted bail on condition that they do not enter the borough of Kingston.