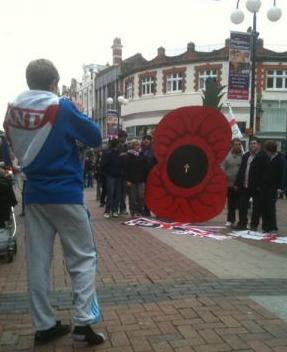 Evidence in the Kingston Mosque attack trial may have been destroyed by Kingston police's property store, a court has heard.
Nine people deny being part of a violent mob that chanted English Defence League slogans as elderly worshippers cowered inside Kingston Mosque during the attack on November 21, 2010.
Lead detective in the case Detective Sergeant Andrew Morrow told Kingston Crown Court evidence including clothing taken from three of the defendants and two sticks recovered at the mosque, could not be found. To audible gasps from the defendants in the dock, he said it appeared another detective who took the evidence from those three witnesses had agreed their destruction earlier on this year.
Earlier in the trial mosque community relations officer Rizwan Khaliq, who spoke from behind a screen, said elderly worshippers inside the mosque after midday prayers were taunted by attackers. Mr Khaliq he heard thuds and someone shouting "Oi, come out", before looking out of the window to see a mob descending, the court heard.
He said: "I then saw an individual who was balaclavered up with a scarf, or something across the face, rush to our window and hit the window with force. He had something like a baseball bat or a stick in his hand, which made a very loud sound against the window. I turned to uncle and said 'Uncle, we are under attack'."
The prosecution was also shown CCTV footage from inside Tesco Metro which they claimed was defendant David Morris buying the bacon later thrown at the mosque.
Martin Pottle, 23, of Hanworth, David Morris, 21, of Epsom, Alfie Wallace, 19, of Shepperton, Terry Earl, 32, of Northolt, Adam Khalfan, 19, of Ashford, Paul Abley, 24, of Feltham, Karl Matthews, 21, of Brentford, Jordan Ellingham, 21, of Feltham, and James Stacey, 19, of Shepperton, all deny violent disorder, affray and racially-aggravated damage.
Kingston Guardian, 16 March 2012
See also "Men accused of mosque attack claim peaceful intentions",Kingston Guardian, 16 March 2012
The attack on the mosque followed a demonstration in Kingston supported by the English Defence League. Last week the court was told that there had been chants of "E, E, EDL" by the mob as they carried out the attack. As we have pointed out, at least three of the nine accused – Jordan Ellingham, Martin Pottle and Paul Abley – are linked to the EDL and its former youth leader Joel Titus.