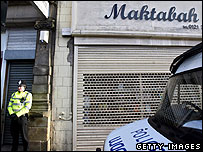 A man freed after he was arrested over an alleged plot to kidnap a UK Muslim soldier has criticised the police investigation.
Abu Bakr, who works in the Maktabah bookshop, targeted in anti-terror raids in Birmingham, also told BBC News the UK was "a police state for Muslims". Mr Bakr, one of nine men arrested in raids, was released without charge along with another man.
Mr Bakr, who is studying for a PhD in Political Islam at the city's university, said he became aware of the police forcing their way into his house early last Wednesday morning by his wife screaming. Asked how he felt about his arrest, he said: "It's a police state for Muslims. It's not a police state for everybody else because these terror laws are designed specifically for Muslims and that's quite an open fact," he added.
He had been released by police on Wednesday morning and told to "go back to things how they were", he added. "But they don't realise that, after seven days of virtual torture for my family, it's going to be hard to readjust," he added. "This is going to affect me for the rest of my life." Mr Bakr said his parents had told him they had aged 10 years while he had been in custody.
He also criticised what he called "amateur-type interrogation" by the police who, he said, had subjected him to "random questioning" about notes written on pieces of paper by his young children.