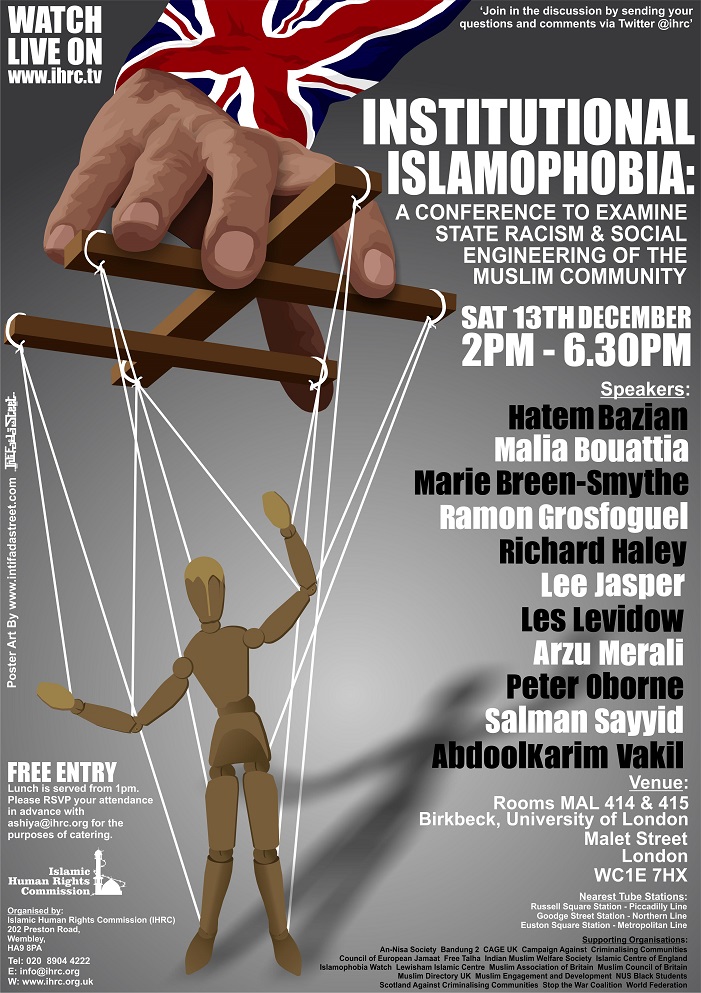 INSTITUTIONAL ISLAMOPHOBIA: A conference to examine state racism and social engineering of the Muslim community
Saturday 13 December
2pm – 6.30pm
Rooms MAL 414 and 415
Birkbeck, University of London
Malet Street, London WC1E 7HX
The Islamic Human Rights Commission (IHRC) will be holding a conference focused on tackling Islamophobia that will take place on Saturday 13 December featuring an expert panel of speakers.
The focus of the event is to analyse institutional and structural forms of prejudice and hatred with some focus on recent events, particularly surrounding education, political activism, the criminalisation of dissent, the role of the media and the Prevent agenda.
Chair of IHRC, Massoud Shadjareh said: "The last few years have seen exceptional increase in public discourse around Muslims, perpetuating bigotry towards Muslims and resulting in an intensified climate of fear that prevents people from expressing their ideas and beliefs. The extreme marginalisation of Muslims is an issue that affects everyone – it is an issue of democratic deficit where all citizens must look to the adverse effects."
The aim of the conference is not simply to rehash and configure what Islamophobia entails, but to instead discuss strategies and solutions with systematic approaches and bridging together ways to move forward.
The afternoon will begin with two panels addressing the audience. Each speaker will give a presentation on their own work while also outlining their concerns surrounding state Islamophobia. The range of speakers is wide with the likes of renowned academics Salman Sayyid, AbdoolKarim Vakil and Hatem Bazian making appearances as well as activists such as Malia Bouattia and Richard Haley (for the full list of speakers, please see blow.) This will then be followed by an interactive Q&A and discussion with the audience.
The conference will also be broadcast live on www.ihrc.tv where viewers around the world will be able to participate and engage as though they too are there. Recorded video of the event will be kept for archival and academic purposes.
Nearest tube stations: Russell Square (Picadilly line); Goodge Street (Northern line); Euston Square (Metropolitan line)
Speakers:
Hatem Bazian – Co-founder of Zaytuna College, UC Berkeley
Malia Bouattia – Black Students' Officer at the National Union of Students
Marie Breen-Smythe – author and academic, University of Surrey
Ramon Grosfoguel – Author and academic, UC Berkeley
Les Levidow – Campaign Against Criminalising Communities and Jews for Boycotting Israeli Goods; Open University
Richard Haley – Chair of Scotland Against Criminalising Communities
Arzu Merali – Director of Research at Islamic Human Rights Commission
Peter Oborne – Chief political commentator of the Daily Telegraph and associate editor of the Spectator
Salman Sayyid – Author and academic, University of Leeds
AbdoolKarim Vakil – Chair of the Research and Documentation Committee of the Muslim Council of Britain, King's College London
Lee Jasper – Co Chair of Black Activists Rising Against Cuts & National Black Members Officer for the Respect Party
Supporting Organisations:
An-Nisa Society
Bandung 2
CAGE UK
Campaign Against Criminalising Communities
Council of European Jamaat
Free Talha
Indian Muslim Welfare Society
Islamic Centre of England
Islamophobia Watch
Lewisham Islamic Centre
Muslim Association of Britain
Muslim Council of Britain
Muslim Directory UK
Muslim Engagement and Development
NUS Black Students
Scotland Against Criminalising Communities
Stop the War Coalition
World Federation