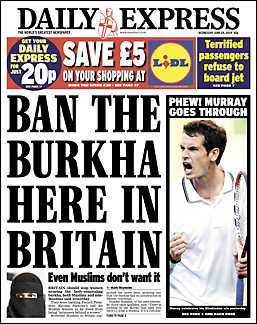 It is a city that has found itself at the heart of the debate about ­Muslim extremism after providing a home to three suicide bombers who brought devastation to London in the July 7 2005 attacks. And in Leeds yesterday the number of women clad head-to-foot in burkhas provoked anger among growing numbers who believe they should be banned.
Groups of Muslim women dressed in the restrictive robes refused to comment on their personal reasons for wearing the garment which continues to cause controversy. And even though they were walking along a busy street among shoppers and workers, most refused to be seen engaging with a non-Muslim man in public.
Leeds has a fast-growing Muslim population of at least 40,000 – double the number of 10 years ago. Locals say that since the 7/7 attacks in July 2005 – three of the gang hailed from Leeds – there has also been a increase in the number of Islamic women choosing to wear the burkha, much to the anger of many of the city's inhabitants.
German-born au-pair Chantal Manzal, 23, has been living in Leeds for a year but returns home next month. She said yesterday: "I cannot believe what I have seen in Britain. In Germany the burkha is hardly ever seen but here I see women wearing them whenever I go out. I find them really scary."
Hairdresser Sarah-Jane Martin, 21, said: "There is no doubt these terrible things should be banned immediately. It is a sign of oppression against women and on those grounds alone, in this day and age, they should be outlawed."
Businesswoman Marcia Booth, 37, said: "There is no more prominent sign of female oppression by men than the burkha. I find it so demeaning and whenever I see these women hiding themselves away my blood reaches boiling point and I just want to scream at them."
See also ENGAGE, 24 June 2009