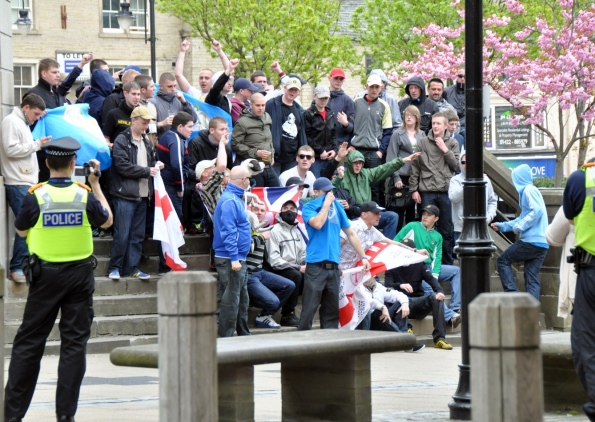 Up to 50 officers were policing the protest in Halifax town centre on Saturday afternoon but, as trouble escalated, around 150 more officers had to be quickly brought in.
Roads into Halifax were closed and as chanting protesters roamed the streets police urged businesses to close immediately and lock doors. Terrified shoppers went home while others sought safety behind the locked doors of town centre businesses. Acting Superintendent Martin Lister said later a "minority seemed intent on causing disorder".
Members of the Far-Right protest group broke away from the Bull Green area where police attempted to contain them. Police on horseback and others with batons drawn prevented breakaway EDL members from leaving the town during confrontations which lasted around six hours. Fourteen men, mostly EDL supporters, were arrested for public order offences.
Police said the EDL protest involved around 150 people and a separate protest by the Muslim Defence League, which centred on People's Park, attracted around 50. Shoppers and those gathered to watch the afternoon's FA Cup football left for home as large groups of EDL members and police took over the Bull Green area.
Teacher Beth Harvey, 22, said: "I was having coffee in a cafe when, on police advice, the owners locked the door and brought all the street furniture in from outside. It was nerve-wracking. We were locked in for about half an hour and nobody else was allowed in. I decided to go home as quickly as possible because things were turning ugly. As I walked back to the car they were chanting and shouting and I didn't know what they might do."