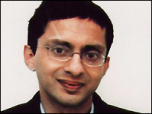 A leader of Britain's biggest Muslim organisation addressed a Jewish audience for the first time in Hampstead on Monday.
The assistant secretary general of the Muslim Council of Britain (MCB), Inayat Bunglawala, was at the Everyman Cinema Club in Holly Bush Vale to take part in a debate about the similarities between Muslims and Jews. The MCB's decision to take part in the forum Does More Unite Jews and Muslims Than Divides Them, was seen as a step towards bringing the two communities together.
Before the meeting Mr Bunglawala said: "It really is to try and explore how much Jews and Muslims have in common as minority faiths in this country. We want to show some enthusiasm from our part towards more cooperation between Muslims and Jews and we want to stay away from importing any conflicts from abroad."
The panel also featured leading Jewish historian David Cesarani, chairman of the London Jewish Forum Adrian Cohen and the Independent newspaper journalist Yasmin Alibhai-Brown.
Guardian journalist Jonathan Freedland chaired the debate which was organised by the Jewish Community Centre for London as part of its Opinion Soup series.
Apart from the tensions in Israel and Palestine the most controversial topic was the much criticised decision of the MCB to boycott Holocaust Memorial Day. In response to the criticism Mr Bunglawala said: "The MCB has made a decision about Holocaust Memorial Day, it's just one of many decisions every year we make. It is always put to the vote but I understand the MCB's position has caused some distress. There are divisions within the MCB over this and the decision is under review."
One fact used to demonstrate the similarities between the two communities was that Mr Cohen and Mr Bunglawala attended the same school in Ilford. And ironically the two community leaders both made a call for more single faith schools.
Mr Cohen said: "I think that a tolerant society should be able to provide for different people's lifestyles. The problem does not lie with faith schools. There are other ways of assisting integration and interaction between minority groups. It would be intolerant to deny people that right to go to a faith school."
Their views, like most of those expressed during the debate, were contested by Yasmin Alibhai-Brown. She said: "I'm completely against faith based schools. If we want to go somewhere in this country, there has to be a morality beyond choice. When it comes to choices for all our children, we don't have the right to ghettoise them. What they are going to have to face cannot be imagined by us."
Summing up the aim of the evening Mr Freedland said at the end: "We have touched the surface here tonight but I hope it is just the beginning of dialogue."