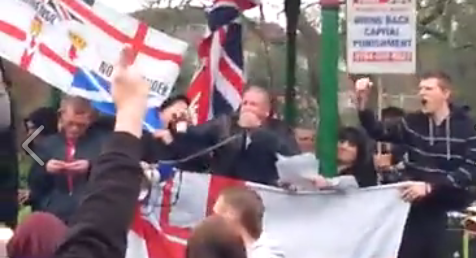 Far-right protestors held an anti-Islamic demo in a Sunderland park.
About 100 supporters of the North East Infidels and the Sunderland Defence League, as well as a small number of English Defence League members, were flanked by dozens of police in Mowbray Park this afternoon.
Protesters shouted "English 'til I die" and held up banners promoting their cause.
Officers formed a line around the city centre park to ensure that the protest, which got underway at about 2.15pm, passed by peacefully.
The groups, many of whom had English and union flags draped around them, dispersed when the rally finished shortly before 3pm.
Paul Gill travelled to the rally from Northern Ireland, and said the gathering was "not racist" but was about addressing concerns in the community.
Sunderland Echo, 15 November 2014
---
The stated objective of the demonstration was to protest against a rape committed in Mowbray Park in September, supposedly by a Muslim. The perpetrator was initially described as "Asian", but without any other evidence the NEI and their friends were somehow able to determine his religious affiliation. It has since been reported that the suspect arrested in connection with the attack is in fact "white European".