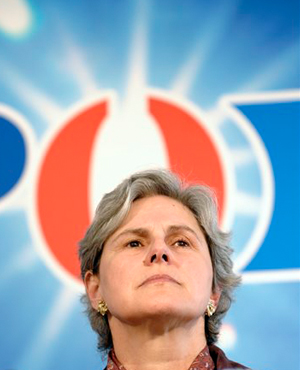 Austrians will go to the polls April 25 to vote for president after a volatile campaign that focused in part on right-wing extremism and raised the ghosts of Austria's Nazi past.
Incumbent President Heinz Fischer, a Social Democrat, is expected to win a landslide victory over his main rival, Barbara Rosenkranz, a regional leader of the far-right Freedom Party (FPO), which once was led by the late Jöerg Haider.
Rosenkranz, a 51-year-old mother of 10, entered the race in early March in a bid many experts saw as a test for the Freedom Party's staunchly anti-immigrant, law-and-order, anti-European Union platform ahead of regional elections later this year. The wife of a key longtime member of a now banned neo-Nazi party, Rosenkranz quickly sparked an outcry over ambiguous statements about the Holocaust and criticism of Austria's tough 1947 anti-Nazi law.
Immigrants and Muslims, rather than Jews, are the main target of the Freedom Party's rhetoric. About 500,000 Muslims live in Austria, and the party campaigns under slogans such as "The West is for Christians" and "Homeland instead of Islam." Still, Jews also feel targeted. In March, vandals defaced the Mauthausen concentration camp, where more than 100,000 people were killed, with staunch anti-Jewish and anti-Turkish graffiti.
The Freedom Party's outspoken leader, Heinz-Christian Strache, said his party's views were justified by a poll last week showing that 54 percent of Austrians believe that Islam poses "a threat for the West and our familiar lifestyle."