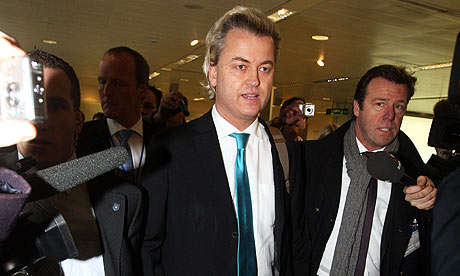 Geert Wilders, the rightwing Dutch politician accused of Islamophobia, was today refused entry to the UK after arriving at Heathrow airport in London.
Wilders was due to show his 17-minute film Fitna, which criticises the Qur'an as a "fascist book", at the House of Lords today. But on Tuesday he received a letter from the Home Office refusing him entry because his opinions "threaten community harmony and therefore public safety".
Lord Pearson, who invited Wilders to Britain, said the screening of the film would go ahead today, whether he was there or not. Speaking outside the House of Lords, Pearson said he disagreed with some of Wilders's views but was "coming at this from the angle of free speech". Pearson described the Dutch politician as a "very brave man" and said he did not think he was a racist.
The peer initially said he did not believe there should be any limits to freedom of speech but when pressed conceded that there should be "a very few", such as language that incited violence. Pearson said he believed a Hitler-type figure should be allowed to speak in public in Britain.
The National Secular Society president, Terry Sanderson, said he wrote to the home secretary saying she should not have denied an application by a "democratically elected politician from a sovereign state who wants to come and express an opinion". "It may be a controversial opinion but he is entitled to express it," he said.
A spokesman for the Muslim Council of Britain described Wilders as "an open and relentless preacher of hate". "We have no problem with the challenge of criticisms to our faith, but the film that will be screened by Lord Pearson and Baroness Cox is nothing less than a cheap and tacky attempt to whip up hysteria against Muslims," he said.
The Liberal Democrat home affairs spokesman, Chris Huhne, said that while it was important to defend freedom of speech, Wilders "has overstepped the line that should be defended in a civilised society".
---
Update: The Daily Mail quotes Wilders as stating: "This just shows the Islamification of the UK." The report continues: "Mr Wilders accused the Government of cowardice and compared its decision to the policies of Neville Chamberlain, whose appeasement of Adolf Hitler in the run-up to the Second World War allowed the Nazis to invade neighbouring countries."
Over at the Daily Telegraph in a comment piece entitled "Whatever happened to free speech?" Philip Johnston condemns the government's refusal to admit "the oddball Dutch MP Geert Wilders". He asserts: "The reason for the ban appears to have been the possibility of protests by some Muslim organisations against Wilders's visit. In other words, his freedom to express a view and the liberty of peers to hear it in an institution supposedly devoted to free speech, were set aside in the face of intimidation…."
In the Independent, Chris Huhne explains: "In a civilised society … there has to be a dividing line between the right to freedom of speech and when it topples over into incitement to hatred and violence. In my opinion, Geert Wilders' revolting film Fitna crosses this line, as its shocking images of violence and emotional appeals to anti-Islamic feeling risk causing serious harm to others.
"The key liberal principle was enunciated by John Stuart Mill in his essay 'On Liberty', in which he stated that the only legitimate reason for coercing someone against their will was to prevent harm to others. It is precisely the prevention of harm to minorities that justifies the restrictions to Mr Wilders' freedom of speech."