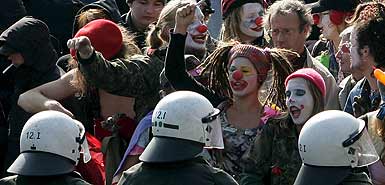 A weekend gathering in Cologne of far-right European extremists ended in farce when the main rally was cancelled as the organisers fled for their own safety.
Politicians invited to the protest included Filip Dewinter, head of the Belgian Vlaams Belang (Flemish Interest) party, Andreas Mölzer, an MEP from the Austrian Freedom Party, and Mario Borghezio, an MEP in the Italian Northern League. Two members of the British National Party were also in town, including Richard Barnbrook, its sole member of the London Assembly.
A press conference to launch the pan-European movement against "Islamification" descended into chaos when its secret location – on board a Rhine river cruiser – was leaked. Left-wing activists arrived en masse to disrupt the event and were so successful that only two Pro-Cologners made it on board before the captain cast off in panic and headed for open water.
The group had then planned to tour the site of the mosque but this was stopped by the police on the ground that a busload of right-wing extremists cruising through a predominantly Muslim area might not be conducive to law and order.
So the only chance that Pro-Cologne had to make an impact was at its main rally on Saturday afternoon in the Heumarkt square. The organisers hoped for about 1,500 people. They had not reckoned on 40,000 screaming anti-fascists trying to break into the square to remonstrate with them.
With leading delegates stuck at the airport and the Heumarkt besieged, the rally was called off after only 45 minutes. The organisers began dismantling their microphones and stage, hoping that the security cordon would hold as police battled against the more violent protesters who were throwing paintbombs and snatching batons.
Although some of them were spirited away, many were penned in for several hours, unable even to get a beer as the bar owners in the square refused to serve them. Finally the BNP representatives got out, scuttling out the back of some of the buildings lining the Heumarkt, their attempts to present a united European front against Islamification in tatters.
"This was a victory for the democratic forces in this city," Fritz Schramma, the Christian Democrat mayor, said.