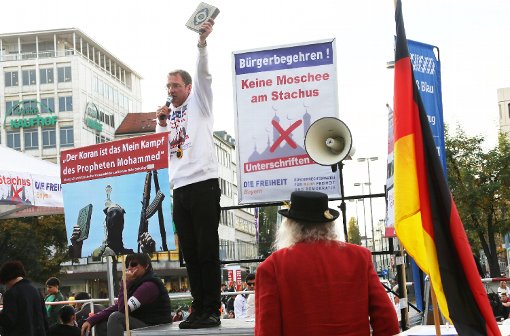 Die Freiheit leader Michael Stürzenberger addresses anti-mosque rally
The Süddeutsche Zeitung reports on how two far-right political parties, Die Freiheit (Freedom) and Bürgerinitiative Ausländerstopp (Citizens' Initiative to Stop Immigrants – BIA), led respectively by Michael Stürzenberger and Karl Richter, are competing for the anti-Muslim vote in the forthcoming local elections in Munich.
While both parties incite hatred of Muslims, the BIA is a more traditionally fascist organisation, being an offshoot of the neo-Nazi NPD, of which Richeter is vice-chairman, and as its name indicates it promotes a hardline anti-immigration line. Die Freiheit represents the newer manifestation of the far right, concentrating on denouncing Muslims specifically rather than migrants generally, while also adopting a pro-Israel stance that is rejected by neo-Nazis.
Stürzenberger is a regular contributor to the "counterjihadist" website Politically Incorrect. He has come to prominence through waging a fierce campaign against plans to build an Islamic centre in Munich.
Süddeutsche Zeitung anticipates that both parties will win seats on Munich city council.
Update:  The results have been declared and Die Freiheit failed to gain any representation on Munich city council, though the BIA won a seat.