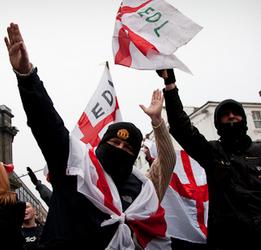 Significant numbers of far-right supporters in the UK consider violence and "armed conflict" a legitimate form of political expression, experts will warn this week.
The first audit into the attitudes and beliefs of Britain's rightwing extremists, collated in a report by the thinktank Chatham House, will reveal that there is a "significant level of support" for planned violent attacks.
Next month the trial will begin of Anders Behring Breivik, the far-right extremist who has confessed to the murder of 77 people in Norway last July. Breivik, an Islamophobe, said he carried out the attacks on Utoya Island and Oslo to help protect Europe from a "Muslim takeover".
The report, which polled 2,152 far-right supporters, raises concerns that the path of extremism followed by Breivik, from membership of a mainstream rightwing party to far-right terrorist, should be recognised as a possibility for UK counterparts.
Matthew Goodwin, an associate fellow of Chatham House and the University of Nottingham, said there was a danger that supporters of the English Defence League EDL), which had links to Breivik, could be tempted to become more militant. "Perhaps some might feel that more direct, more violent strategies are the way forward."
On 31 March the EDL will stage an international demonstration in Aarhus, Denmark's second largest city. The "counter-jihad" summit will discuss the formation of a European Defence League. Representatives from defence leagues in Italy, Poland, the United States, Finland, Sweden and Norway are expected to attend, along with the anti-Muslim group, Stop Islamisation of Europe.
The ramifications of a well-organised, European-wide far-right movement, able to share violent ideologies and pool resources, has triggered concern from anti-fascist campaigners. Last week the Czech government warned that extreme rightwing groups were becoming more sophisticated and that neo-Nazis might resort to terrorism.
Goodwin said: "If the EDL links up with similar organisations in Germany and central and eastern Europe, that is quite worrying. Many of the grassroots groups in Germany are often called 'autonomous nationalists', but are very, very closely networked with neo-Nazi groups and organisations that engage quite openly in violence."