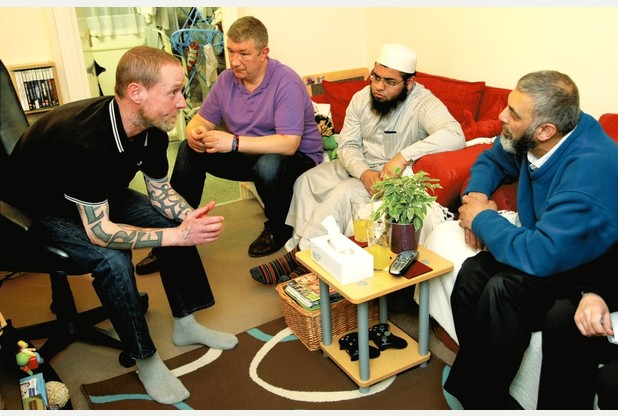 Tattooed Geoff Ryan warmly embraces the Imam of Braintree Mosque and says sincerely: "I'm sorry."
Less than a year ago, the 44-year-old stormed the peaceful prayer centre, armed with knives and smoke grenades, and even threatened to kill a worshipper in a "revenge" attack for the brutal murder of soldier Lee Rigby in Woolwich.
After serving half of his nine-month jail sentence, the builder and former member of the English Defence League spent four hours discussing politics, extremism, religion and the events of that fateful night in May with leaders of the Muslim community, and now wants to help change negative perceptions of Islam.
"I'm sorry for what I did," said Ryan, who met four local Muslims at his home in Brick Kiln Way, Braintree, after a chance encounter at HMP Chelmsford with Imam Kashif Ahmad, who volunteers at the prison. "I think you've been really decent about this whole thing and I thank you for coming round," added Ryan, who had initially turned down the chance to meet at the prayer centre in Silks Way, saying:
"After what I did I don't have a right to set foot in your mosque. It shows the mark of the four of you that you're prepared to come and speak to me. What I did was wrong, but I must stress people cannot do that to our soldiers – that proper drove me over the edge. You were not to blame for that – that was collective punishment on my behalf and it was wrong, but the British people will not stand for our troops being abused either verbally or physically.
"After our soldier was killed, I sat there and thought to myself, and I'm not proud of it, but this was my thought process at the time – 'you can get to our soldiers, I can get to you just as easily'. Simple as that, it's bad, but I was that livid at what happened to our soldier."
As images and video footage of Lee Rigby's horrific murder at the hands of two extremist Muslims flooded TV screens across the world, Mr Ryan began plotting a revenge attack on the local Muslim community.
Just hours after Mr Rigby's death, he hurled a smoke grenade through the downstairs window of the mosque forcing the only occupant, taxi driver Saruk Miah, onto the flat roof of the Al Falah prayer centre. Ryan then shouted "******* come out, I'm going to kill you. Let's see if Allah or God come to help you." Brandishing the knives, he then yelled: "I'll kill you Muslims, I'll kill you before the police come, come downstairs, come out, I'm going to cut your throat."
Mr Miah, who was about to start evening prayers, used his mobile phone to call police, who raced to the scene to arrest Ryan, breaking his arm in the struggle.
He appeared at Colchester Magistrates' Court on May 24 last year charged with two counts of possessing a knife, one count of affray and one count of threatening unlawful violence. In a Chelmsford Crown Court hearing in July, he pleaded guilty to the charges and was jailed.
The mosque's chairman Abdul Gaffor, Imam Kashif Ahmad and two converts to the religion Glenn Maskell and Jenny Wayne, agreed to meet at Ryan's home where they sipped orange squash whilst discussing the finer points of the Quran.
Mr Ryan, who turned his back on the English Defence League because "getting drunk all the time and shouting insults doesn't get anything done", called on Mike Watts of Working Class Action, a campaigning group based in Birmingham, to join the discussion.
All six members of the group pledged to "forgive and forget" and committed to an open dialogue in order to better understand each other's cultures.
Abdul Gaffor, a taxi driver in Braintree, said: "We believe we should forgive, then move on, so let's say that we'll talk again about our concerns and move forward that way. We in England have so many different groups that it's time we start breaking down barriers in the local area, then we go from there. Let's take the labels off and bring the humanity together.
"Those people that killed another human being, there was anger on our side as well, we thought it was disgusting, and I said so myself on the radio that this was a barbaric act and the Muslims have nothing to do with this, it was those two people that did it. From now on we just look forward. We Muslims are sometimes in a corner and we want to come out of that corner and be friends with everybody."
In February this year Michael Adebolajo was sentenced to a whole life sentence and Michael Adebowale was given 22 years for murdering drummer Lee Rigby, which sparked Ryan's attack.
He added: "What I did was a criminal act and it won't be repeated by me and if I ever heard that someone was going to go down that road I'd stop them. Acts of hatred and violence are not going to get anyone anywhere. My actions didn't help Lee Rigby and it didn't help his family.
"I don't want politicians trying to speak for us and so-called Muslim spokesmen – just us, in the community, people that live side-by-side, we're all just trying to get through life. And what I did was wrong, but I must stress people cannot do that to our soldiers – that proper drove me over the edge."
The group also spoke at length on passages from the Quran and how Muslims are perceived by society.
Jenny Wayne, 49, who converted to Islam from Judaism, told of some of the discrimination she has faced in her home town of Witham. "When I first put the hijab on I suddenly noticed people would either be nicer to me or call me scum," she said. "When I ride my bike I still get laughed at because I'm wearing a hijab. Some people go the extra mile to show they're not racist, others show their true colours."
Ryan, who has a well-thumbed copy of the Quran in his living room, also spoke of his experience of society's perception of Islam and his desire to help change it, adding: "I can tell you that across the country and definitely in this town, there is no love for Islam, but I'm going to help change that. I don't believe what I did was extreme, it was a reaction to an extreme act. It's not about religion, what I can say is that I met four very nice people."
On the topic of extremism and whether he considered his actions in May to be an act of terror, Mr Ryan, who was in care as a child, was initially defensive, but later said: "I don't consider myself part of an extreme right-wing group or anything like that, I'm conservative in some views and quite liberal in others."
Mr Gaffor added: "At the time we didn't think it was terrorism, but something evil, it's hard as it terrified people, but now that we've met we don't feel this way."
Ryan, with an Inter City Firm football hooligan tattoo on his right hand, which he said he got at 14 to make him look tougher in care, also branded the EDL idiots after Mr Gaffor told of three members who got into his taxi at night and threw coins at him. "You have every right to stand up and speak out against someone who attacks your community," said Ryan.
As the meeting concluded Mr Ahmed handed his host a box of Celebrations for his nine-year-old son, and the pair hugged, with Ryan wishing the Imam an Arabic greeting "salaam alaikum" – peace to you.
Essex Chronicle, 14 April 2014
---
Of course, if Ryan really has changed his attitude towards Islam and the Muslim community, that is to be welcomed. However, in view of his history of involvement with the far right – including not only the EDL but the South East Alliance and before that the British National Party – you'd have to be sceptical about his supposed transformation.
Given that background, his claim that "I don't consider myself part of an extreme right-wing group or anything like that, I'm conservative in some views and quite liberal in others" is disingenuous to say the least. And what are we to make of Ryan's statement regarding his attack on the Al Falah Islamic Centre, that "I don't believe what I did was extreme, it was a reaction to an extreme act"?