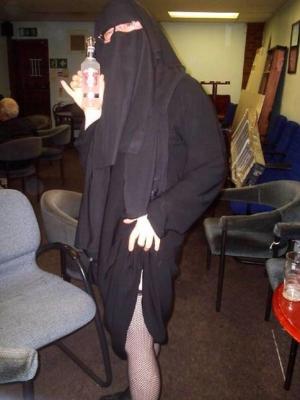 This is the true "face" of British National Party election candidate Charlotte Lewis she would rather you did not see.
As she swigs from a bottle of alcopops at a Halloween party, burqa clad BNP parliamentary hopeful Miss Lewis reveals her contempt for Muslims. The right wing activist is pictured smoking and drinking and revealing her underwear while on the night out dressed as a Muslim.
And these exclusive pictures of the woman standing as a candidate for Carshalton and Wallington, and a Croydon Council nominee, are just the start of her bigoted views. Miss Lewis, 37, has been using her Facebook page to openly call for violence and post hate-filled racist rants about "pakis".
Miss Lewis said: "I think it's completely acceptable to dress that way. I thought it was hilarious and so did everyone at the party. Anyone who does not find it funny needs to develop a sense of humour."