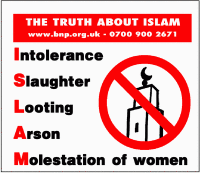 BNP leader Nick Griffin and party activist Mark Collett have been cleared of inciting racial hatred after a retrial at Leeds Crown Court.
Mr Griffin, 46, from Powys, Wales, had denied two charges of using words or behaviour intended to stir up racial hatred in a speech in Keighley. Mr Collett, 26, of Leicestershire, was cleared of four similar charges. The pair were charged in April 2005 after the BBC showed a secretly-filmed documentary "The Secret Agent" in 2004.
Mr Griffin smiled and nodded as the foreman of the jury read out the unanimous not guilty plea. Mr Collett, the party's head of the publicity, said: "This is the BNP – two, BBC – nil." He branded the BBC "cockroaches" and added: "The BBC have abused their position. They are a politically correct, politically biased organisation which has wasted licence fee payers money to bring two people in a legal, democratic, peaceful party to court over speaking nothing more than the truth."
During the trial, the jury heard extracts from a speech Griffin made in the Reservoir Tavern in Keighley, on 19 January 2004, in which he described Islam as a "wicked, vicious faith" and said Muslims were turning Britain into a "multi-racial hell hole". At the same event, Mr Collett addressed the audience by saying: "Let's show these ethnics the door in 2004."
In his closing argument, Nick Griffin's barrister said his client's speech was a "campaign speech of an official and legitimate party".