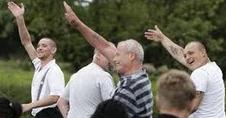 Far-right activists from Europe spoke at the British National party's annual gathering this weekend despite protests by more than 1,000 anti-fascists who blockaded the event for several hours.
Roberto Fiore, the leader of the Italian party Forza Nuova and a friend of the BNP leader Nick Griffin, spoke to several hundred people at the Red, White and Blue festival about the "threat to Europe from Islamic extremism" on Saturday night. Fiore, who once said he was happy to be described as a neo-fascist, was joined by Marc Abramson, from the Swedish National Democrats.
The annual Red, White and Blue event has been held on a farm owned by a BNP member near Codnor, Derbyshire, for the past three years, and is described by the far-right party as a family festival. However, the mood at the event threatened to turn ugly on Saturday as far-right supporters outside the camp gave fascist salutes to protesters and shouted "Sieg Heil".
Weyman Bennett from Unite Against Fascism, one of the groups who organised Saturday's demonstration, said it had been a success. "We managed to disrupt the event with peaceful direct action but the attendance of people like Fiore and the actions of some BNP sympathisers shows the real extremism that we are facing," he said.
See also "A day to remember in Codnor as anti-fascists drown out the BNP's festival of race hate", UAF news report, 16 August 2009
Update:  See "Three charged over racial taunt at BNP rally", Reuters, 17 August 2009