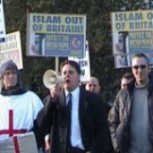 "This is a conference of appeasement to the communities which harbour individuals who will stop at nothing to bomb our cities and kill innocent people to force their religion on an unwilling population…. Thousands of Londoners and visitors alike still bear the physical and mental scars of the 7/7 Islamic terror attacks on the Tube yet our well paid senior police officers sit down to cornflakes and toast with so-called community leaders representing ethnic and religious minority groups that are prepared to bomb, kill, rape and maim to get their way."
The British National Party takes exception to the news that Tim Godwin, Assistant Commissioner of the Metropolitan Police, will be the special guest at the Second Annual London Peace Talks, a breakfast meeting for leaders of communities, faith groups, and public services at the Greater London Authority on Monday 11 September.
Instead, the fascists call for "a firm policy which can only come from a nationalist government that our capital city and our country is not up for discussion, not open to questions of ownership and that we are not going to make one single concession to those who choose to temporarily live here who adhere to a barbaric medieval desert religion".