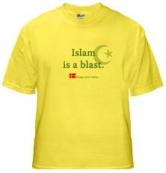 The "March for Free Expression" (which, as we have already noted, is essentially a march for the right to incite hatred against Muslims) is due to go ahead in Trafalgar Square on 25 March. Its website today features an attack on the Muslim Action Committee, a broad-based body involving Muslim organisations from Q News to Hizb ut-Tahrir which organised a mass protest over the Danish cartoons in London on 18 February.
The "March for Free Expression" organisers take particular exception to an Islamic Human Rights Commission press release which quotes Faiz Siddiqi of MAC condemning the "Free Expression" protest as "a provocation to 1.6 billion Muslims". Faiz Siddiqi goes on to state that "The continued irresponsible actions of the BNP in distributing leaflets with the cartoons on across the country are also provoking anger throughout the Muslim community."
The MFE statement complains: "We think the inclusion of a reference to the BNP in this press release is an attempt to associate this campaign with that political party which, as anyone who has looked at this site will know, is deeply dishonest."
Oh yeah? Well how about this press release from the so-called "Civil Liberty" campaign, a fascist front organisation headed by the BNP's North East organiser Kevin Scott? It states: "Civil Liberty are to attend the Support Free Speech Demo and rally in Trafalgar Square between 2:00pm and 4:00pm on Saturday March 25th 2006…. We ask all supporters to attend the rally."
Backing from the extreme right is hardly accidental. One of the posters available for promoting the "March for Free Expression" is a version of the Danish flag, described as the "Heart for Freedom", which plainly solidarises with the decision of Jyllands-Posten to publish racist anti-Muslim caricatures. And the MFE site advertises T-shirts carrying slogans such as "Get your fatwa out of my face. Support Denmark. Support free speech", "Up yours, 'religion of peace'!" and "Islam is a blast".
The claim by the organisers that "This will be a march in favour of free expression, not a march against Muslims" can, I think, be treated with the derision it deserves.