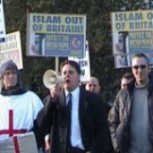 British National Party activists around the country must increase their leafleting and table top activities over the next few weeks in light of the public reaction and disgust at the outrageous anti-British display by Islamists in Luton, BNP leader Nick Griffin has said.
"Our telephones, donation hotlines and new membership departments have been burning with a flood of inquiries," Mr Griffin told BNP News. "The anti-British army outrage in Luton has finally woken up tens of thousands of British people to the reality that this nation is being Islamified, and that the BNP represents the only hope of preventing this disaster from occurring," he said.
"Now is the time for table tops in town centres, leafleting campaigns and outreach efforts like never before. The popular wave of public opinion is now firmly in our favour, and people can see that the BNP, and the BNP alone, were right all along."
Mr Griffin said every BNP branch and group that is able should hold a table top outreach in as many towns and cities as possible this coming Saturday. "The outrageous Islamist activities of the past few days are still fresh in the public's mind, and the time will never be better to engage with the public on the issue," he said.