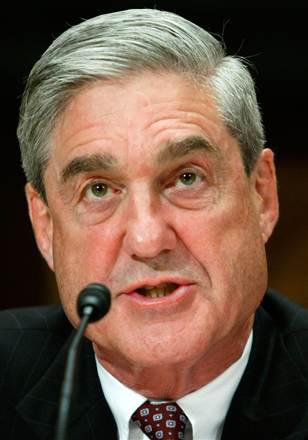 FBI Director Robert Mueller on Monday defended the agency's use of informants within U.S. mosques, despite complaints from Muslim organizations that worshippers and clerics are being targeted instead of possible terrorists.
Mueller's comments came just days after a Michigan Muslim organization asked the Justice Department to investigate complaints that the FBI is asking the faithful to spy on Islamic leaders and worshippers. Similar alarm followed the disclosure earlier this year that the FBI planted a spy in Southern California mosques.
"We don't investigate places, we investigate individuals," Mueller said during a brief meeting with reporters in Los Angeles. "To the extent that there may be evidence or other information of criminal wrongdoings, then we will … undertake those investigations," Mueller added. "We will continue to do it."
He called relations with U.S. Muslims "very good," but acknowledged disagreements without providing specifics.
The Council of Islamic Organizations of Michigan sent a letter to U.S. Attorney General Eric Holder after mosques and other groups reported members of the community have been asked to monitor people coming to mosques and donations they make. The FBI's Detroit office has denied the allegations.
In the California case, information about the informant who spied on the Islamic Center of Irvine came out at a February detention hearing for a brother-in-law of Osama bin Laden's bodyguard, an Afghan native and naturalized U.S. citizen named Ahmadullah Niazi who is accused of lying on his citizenship and passport applications about terrorism ties.
Local Muslim leaders say they suspected since at least since 2006 that the FBI was trying to infiltrate Muslim organizations in the area.
"History disputes Mr. Mueller's statements, at least in Southern California," said Shakeel Syed, executive of the Islamic Shura Council of Southern California. "It doesn't alleviate anything. It only continues to show the sheer arrogance demonstrated by the bureau in holding Muslim community members, clerics, mosques, as suspects," Syed said. He is among community leaders in court seeking government records of surveillance.
FBI agents and prosecutors say spying on mosques is one of the best weapons to uncover lurking terrorists or threats to national security, but it has posed a politically and legally thorny issue with Muslims who see themselves as unjustly monitored. "The FBI needs to do what it needs to do, certainly," Syed said. But the agency is "trying to incite and entrap" law-abiding people.
Mueller also said that there will be no change in the FBI's priorities in the new administration. "I would not expect that we would in any way take our foot off the pedal of addressing counterterrorism," he said.
"My expectation is that we'll see an uptick in terms of resources devoted toward our domestic criminal responsibilities, but we will not … relax our responsibilities when it come to counterterrorism or counterintelligence," he added.