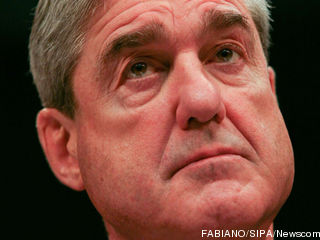 FBI Director Robert Mueller told the House Permanent Select Committee on Intelligence on Thursday that the counterterrorism training sessions conducted by his bureau that claimed American-Muslims were likely to be terrorist sympathizers were isolated.
Mueller called the FBI training materials in question "inappropriate offensive content" but asserted they weren't commonplace, calling the incidents "an aberration."
"I think that's a very valid concern. And as I have pointed out, I think this is a very unusual occasion," Mueller said.
"We have undertaken a review from top to bottom of our counterterrorism training. I think these are isolated incidents," Mueller said. "We have 34,000 employees and we do a great deal of training. We understand the sensitivity and the importance of assuring that that training that we give to our persons are appropriate."
The FBI, facing pressure from Muslim groups after the revelation of the training materials by Wired reporter Spencer Ackerman, said they had taken steps to prevent such material from leaking into their training programs in the future.
But Ackerman has since uncovered new evidence of Justice Department employees casting Islam as an existential threat to the United States. An "intelligence specialist" who worked for the U.S. Attorney's office in the Middle District of Pennsylvania warned in a 2010 Power Point presentation of a "Civilizational Jihad" conducted by "civilians, juries, lawyers, media, academia and charities." Earlier this year, a FBI trainer compared Islam to the "Death Star."
---
The Washington Times quotes Robert Spencer of Jihad Watch as accusing Mueller and the FBI of "following a politically correct agenda that makes us all less safe". Condemning Mueller's rejection of the claim made on one training course that the more religiously observant Muslims are, the more violent they become, Spencer claims that the FBI director "is saying that this correlation is offensive because Islamic supremacist groups like the Council on American-Islamic Relations tell him that it offends them".
Another notorious Islamophobe, former FBI agent John Guandolo, also accuses Mueller of capitulating to CAIR. He adds: "The fact is, the major threat does not come from terrorist attacks. It comes from the Muslim Brotherhood."