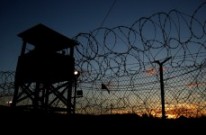 FBI agents have blown the whistle on sickening abuse of prisoners at the notorious Guantánamo Bay camp in Cuba.
A dossier compiled by agency bosses on guards' conduct has been released in full for the first time. It tells how prisoners suspected of being al-Qaeda sympathisers and held without charge were subjected to horrifying physical and psychological torture.
Some guards allegedly dressed as priests to "baptise" Muslim prisoners. A detainee was subjected to a degrading lap dance by a topless female guard and others had their prayers interrupted by guards splashing fluid on their faces and telling them it was menstrual blood.
An inmate was badly beaten after revealing he had recently had abdominal surgery. And several were placed in unheated, darkened cells and interrogated for 24 hours non-stop. One FBI witness reported being told that then US defence secretary Donald Rumsfeld had approved this technique.
Glasgow Daily Record, 4 January 2007
The Pentagon plans no action as a result of a newly released FBI report on detainee abuse at the Guantánamo Bay military prison, a spokesman said Wednesday, asserting there is nothing new in the report.