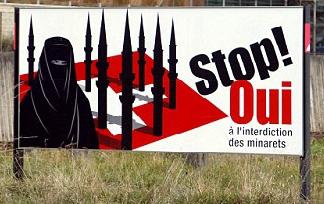 A right-wing campaign to outlaw minarets on mosques in a referendum being held in Switzerland today has received an unlikely boost from radical feminists arguing that the tower-like structures are "male power symbols" and reminders of Islam's oppression of women.
A "stop the minarets" campaign has provoked ferment in the land of Heidi, where women are more likely than men to vote for the ban after warnings from prominent feminists that Islam threatens their rights.
Forget about tranquil Alpine scenery and cowbells: one of the most startling features of the referendum campaign has been a poster showing a menacing woman in a burqa beside minarets rising from the Swiss flag. It seems to have struck a nerve in Langenthal, a small town near Bern where Muslims plan to put up a minaret next to their prayer room in a bleak former paint factory.
"If we give them a minaret, they'll have us all wearing burqas," said Julia Werner, a local housewife. "Before you know it, we'll have sharia law and women being stoned to death in our streets. We won't be Swiss any more."
A spoof video game on the internet called Minaret Attack shows minarets popping up all over the idyllic Swiss countryside, after which a message proclaims: "Game over! Switzerland is covered in minarets. Vote to ban them on November 29."
Socialist politicians have been furious to see icons of the left joining what is regarded as an anti-immigrant campaign by the populist Swiss People's party, the biggest group in parliament. One of them, Julia Onken, warned that failure to ban minarets would be "a signal of the state's acceptance of the oppression of women". She has sent out 4,000 emails attacking Muslims who condone forced marriage, honour killings and beating women.