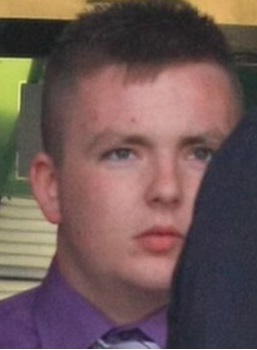 A former footballer has been fined £1,000 for a post on a social network inciting racial violence. Ryan Harbinson, 19, posted on Facebook asking people to start terrorist attacks after the murder of soldier Lee Rigby.
Falkirk Sheriff Court heard Harbinson was a talented player whose career was cut short after he was stabbed in 2011. His defence argued that he had suffered Post Traumatic Stress Disorder (PTSD) in the attack.
On 23 May last year – the day after Fusilier Rigby was murdered on a London street by two Islamic extremists – Harbinson posted: "Anyone up for starting our own series of terrorist attacks, little bit of petroleum would set fire to the mosque nicely :)".
Written evidence submitted to the court stated that one of Harbinson's "friends" on the social network, Molly Duncan, who did not know him in real life, spotted the post shortly after he wrote it. The 17-year-old thought it was racist and was "disgusted" by it as she believed it was obviously aimed at Muslims.
She posted a screenshot of the offensive comment to Twitter with the caption: "This is why I hate Facebook, people like this don't realise how racist this is."
An hour later, one of Miss Duncan's friends, Mariam Nadeem, then aged 16, saw the tweet and felt "offended and upset" by it. Ms Nadeem told her mother, who was concerned for the safety of her children and called the police.
When two officers detained Harbinson, who at one time was signed by St Johnstone, he said: "I would never intend to have done what I said today. I never realised how serious what I said could be. It was just after I woke up. It was a stupid thing to do."
The council worker denied a charge of breaching the peace by posting the message and his lawyer, Gordon Addison, argued he did not have criminal intent as his therapist, Patrick Gilmartin, gave evidence that the post was a reaction due to his PTSD and he had little or no control over it.
Mr Addison said Harbinson was 16 years old when he and his 14-year-old girlfriend were walking home and he was attacked by two men, stabbed and left for dead. He said the teenager technically died twice and suffered mental and physical injuries as a result, including PTSD. He added: "Those who attacked him received a very modest sentence and they are liberated and no doubt at peace with themselves while Mr Harbinson is still carrying the scars of what happened."
Mr Addison said Harbinson was involved in a initiative warning schoolchildren of the dangers of knife crime. "All the good that he did he seems to have undone in this outburst when he watched Lee Rigby being killed live on TV," he added.
Sheriff Mundy told Harbinson: "I am prepared to deal with this by way of a financial penalty. I accept in coming to the amount of your penalty that PTSD was a factor in the commission of this offence. It doesn't excuse it, but it was a factor. I also have regard to your background and the traumatic event that you experience yourself that led to the PTSD."