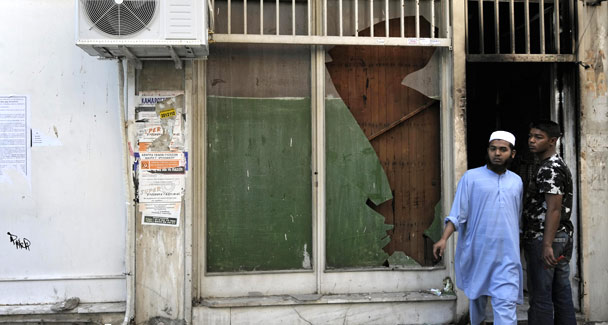 Unknown assailants tried to burn down a makeshift mosque in Athens on Saturday, injuring five Bangladeshi migrants who suffered burns and respiratory problems in the attack, police said.
The attackers broke the windows of a basement flat used as a mosque early on Saturday morning and threw gasoline inside before lighting it, a police source said. Four Bangladeshi men suffered respiratory problems and a fifth was burned, police said. All were initially taken to hospital but later discharged.
The incident followed clashes in Athens between Muslim immigrants and Greek police during protests sparked by allegations that a police officer tore up and stamped on a Koran during an identity check earlier in the week.
Nearly 1,000 Muslims rallied in the citys central Omonia square on Friday in a demonstration organised by leftist, immigrant and anti-racism groups.
Violence broke out at the end of the demonstration as around 100 protesters threw projectiles at police, who tried to disperse the crowd with tear gas.
Over seventy cars and five shops were vandalised and the police arrested 46 people. Seven protestors and seven police were injured in the clashes.
A larger demonstration on Thursday involving some 1,500 Muslim immigrants also degenerated into violence with police using tear gas to disperse protesters who threw dustbins and stones.
The incident that sparked the protests occurred on Wednesday when police stopped four Syrian immigrants to check their papers. One officer allegedly tore up a Koran and stamped on it. Police have opened an investigation.
Another protest march will be held in Athens on Saturday afternoon.
Athens has no licensed mosques and thousands of Muslims immigrants residing in the city are forced to use rented flats and warehouses for their prayers.
See also "Athens Muslim group attacked in wake of violent protests", Deutsche Welle, 23 May 2009