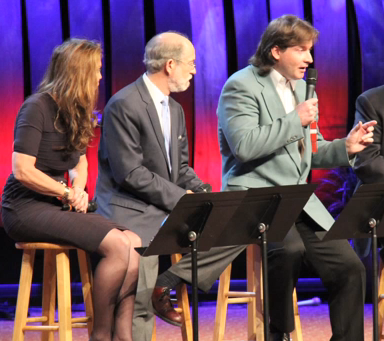 Pinellas County's Republican Party is facing criticism from some of its own members for inviting a University of Central Florida academic to give an anti-Islam speech at its next meeting.
In its June newsletter, the group publicized that Dr. Jonathan Matusitz, an assistant professor, would be giving a 45 minute speech called "The Islamic Threat to America." The speech is scheduled to take place roughly an hour before the organization's executive committee meets and hears from Blaise Ingoglia, the vice chairman of the Republican Party of Florida.
On Thursday, Chris Latvala – son of State Sen. Jack Latvala, and a likely candidate for the State House in 2014 – took to Facebook to say he was disappointed in the party. "I am a born again Christian saved by grace alone, through christ alone, but a local county republican meeting should not be an avenue to bash a religion that is practiced by many in Pinellas County including fellow Republicans," he wrote. "As a party our focus should be trying to win the vote of every voter regardless of their religious beliefs."
Pinellas GOP Chairman Michael Guju could not be reached for comment. That Matusitz would be speaking before the Pinellas GOP was first reported by local blogger Peter Schorsch on SaintPetersBlog.
It appears Matusitz has been making the rounds within Florida's tea party chapters. On May 13th, he spoke before The Villages Tea Party (watch his speech here) and on May 30th, according to Facebook, he addressed the East Side Tea Party in Orlando. "The problem is not so much the average Muslim, as it is the ideology," he told the Village crowd last month, going on to say that the Koran is "a lot of hateful verses that urge the adherents to kill non-Muslims."
Matusitz told the crowd that even though France and England are "traditionally Catholic countries" (someone needs to tell him about Henry VIII…), they have been forced to recognize sharia as law. The growing number of Muslims in Europe threatens to overwhelm European civilization, he claimed. "In just 22 years the number of Islamic immigrants has almost doubled. Can you see the magnitude of the problem?" he asked.
Tampa Bay Times blog, 6 June 2013
---
Matusitz seems to be a rising star on the "counterjihad" circuit in Florida. In April he spoke alongside Pamela Geller and Frank Gaffney at The Awakening, a conference of the religious right hosted by First Baptist Oviedo (see picture).
Matusitz obviously fancies himself something of a wit. Informing his audience that 96% of the victims of terrorism between 2000 and 2010 were victims of Islamic terrorists, he continued: "So when my colleagues tell me that Islam is a religion of peace, I tell them that Islam is a religion of pieces. Piece of body here, piece of body there." Oh how we laughed.