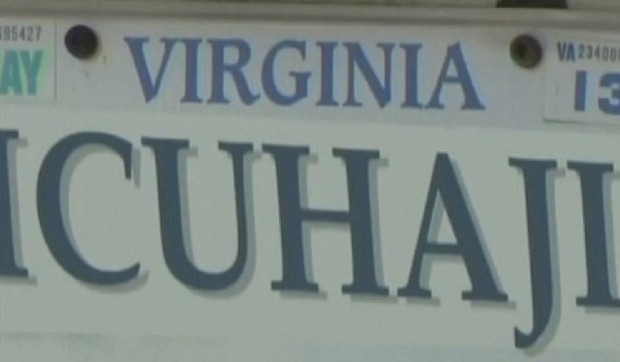 An Iraq war veteran's quest to recover personalized license plates that some Arab Americans found offensive is not over.
After a judge ruled in November that the Department of Motor Vehicles couldn't deny a tag on the grounds that it denigrated individuals of a particular nationality, the state has come up with a new reason to revoke Sean Bujno's ICUHAJI plate.
In a letter from the DMV to Bujno, the agency said the tag – it can be read, "I see you, haji" – condones or encourages violence and is obscene or otherwise vulgar in nature. "That couldn't be further from the truth," said Andrew Meyer, Bujno's attorney. "He really means it respectfully."
While "haji" is a common and often derogatory term for Arabs used by U.S. soldiers serving in Iraq and Afghanistan, Meyer noted the word's historic definition: "a person who has made a pilgrimage to Mecca," or the hajj. Meyer said his client has expanded the meaning to include all soldiers who have served in Iraq.
A DMV spokesperson declined Tuesday to comment on Bujno's case, citing state privacy laws. But the agency's decision is expected to set up another round of legal battles.
Meyer said Tuesday that he plans to bring the matter back before Circuit Judge John W. Brown to argue the DMV is again violating his client's free-speech rights. A hearing is set for March 13. "Some might see it as a slur, but it's not," Meyer said. "The word haji is not obscene."
Bujno, an Army sergeant who was honorably discharged in 2009, displayed the plates on his car for more than four years before the DMV revoked them. In a Nov. 3, 2011, letter, DMV Commissioner Richard Holcomb said the tags violated a prohibition on letter combinations that could reasonably be interpreted as being "socially, racially, or ethically offensive or disparaging." He noted a bumper sticker on Bujno's car. It read: "God Bless Our Troops, Especially Our Snipers."
During a hearing last year, Assistant Attorney General Janet Westbrook noted that Bujno requested "HAJIKLR" plates in 2007 and was denied.
Meyer countered his client's father requested the "HAJIKLR" tags. As for the bumper sticker, Meyer said the DMV wasn't allowed to consider anything except the plate type, character combination and make, model and year of the vehicle.
In November, Brown ruled the DMV's prohibition regarding "ethnically offensive" letter combinations was unconstitutional. He said the state can't prevent people from denigrating a religion or ethnicity if people are allowed to praise those faiths and nationalities.
Brown ordered the DMV to either return the license plates or find a permissible reason to keep the tags from the Chesapeake resident. The judge added that the DMV was not allowed to consider the wording of Bujno's bumper sticker if the agency decided to reconsider the revocation.
In an email, Sunni Brown, a spokeswoman, said the DMV is working to revise its guidelines. In the interim, the agency no longer uses the guideline in question, she said.
Meyer said he was frustrated it took the DMV more than three months to make a decision regarding his client's plates. He noted the judge signed his opinion Nov. 2 and his final order Dec. 7.
"It never should have taken this long," he said. "They didn't like the plate and decided to hold on to it until they found a reason to deny it."