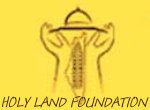 Two founding members of what was once the nation's largest Muslim charity were each sentenced to 65 years in prison Wednesday for funneling millions of dollars to the Palestinian militant group Hamas.
Shukri Abu Baker, 50, and Ghassan Elashi, 55, were among the five members of the Holy Land Foundation for Relief and Development sentenced to prison by U.S. District Judge Jorge Solis. The men and Holy Land were convicted in November on 108 charges.
The convictions followed a mistrial in which the government in 2007 failed to sway jurors that the now-defunct charity, based in the Dallas suburb of Richardson, was in fact aiding Hamas.
The two Holy Land leaders were convicted on charges ranging from supporting a terrorist organization to money laundering and tax fraud. The group wasn't accused of violence but of bankrolling Hamas-controlled schools and social welfare programs.
Mufid Abdulqader, 49, was sentenced to 20 years on three conspiracy counts. Mohammad El-Mezain, 55, got 15 years for one count of conspiracy. Abdulrahman Odeh received 15 years for three conspiracy counts.
The sentencing re-energized Holy Land's supporters, who believe the prosecution was a politically motivated product of former President George W. Bush's "war on terror" and a prime example of post-Sept. 11 anti-Islam fervor. Across the street from the courthouse, a handful of people held a banner that read "Feeding Children Is Not A Crime."
Abu Baker's daughter, 25-year-old Zaira Abu Baker, said outside the courtroom that the group was a legitimate charity. "I've been with my dad 100 percent of the way," she said. "I saw the work he did. He devoted his life to helping needy children. But after 9/11, I guess, there's hysteria. They pick and choose people, and unfortunately it's us."