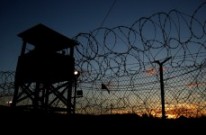 British resident Jamil el-Banna, 44, knew Abu Qatada, a cleric accused of being al-Qaida's spiritual leader in Europe.
In 2002 Mr Banna, a father of five from London, was seized by the CIA and secretly flown to Guantánamo Bay, after MI5 wrongly told the Americans that his travelling companion was carrying bomb parts on a business trip to Gambia.
On Friday, his companion, Bisher al-Rawi, was released without charge after four years in the US detention camp, after it emerged that he had helped MI5 keep track of Qatada. But Mr Banna's incarceration in Cuba continues.
It has now emerged that only days before Mr Banna's arrest, MI5 visited him at his home and attempted to recruit him as an informer, with the lure of a new identity, relocation and money. The Guardian has obtained this MI5 document in which the intelligence officer details, in his own words, that encounter.