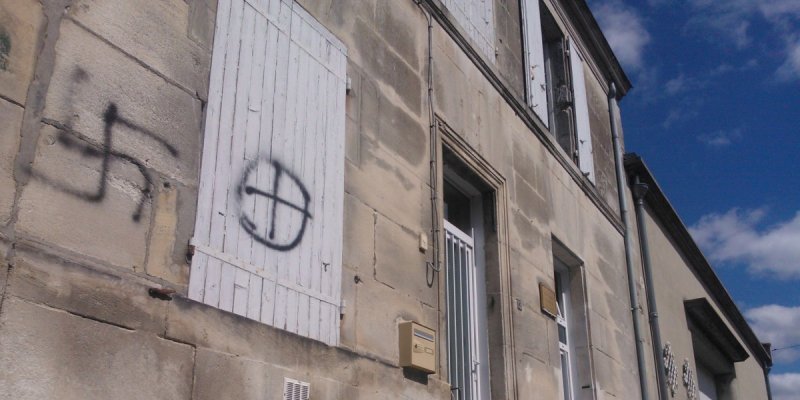 According to AFP, swastikas, Celtic crosses, and slices of ham were found on the walls of the mosque in Cognac on Sunday.
The same source said that the imam of the mosque discovered the misdeeds early Monday morning when the went to the mosque to perform the Fajr prayer, the first prayer of the day.
Abdallah Zekri, President of the National Observatory Against Islamophobia, a component of the French Council of Muslim Faith (CFCM), told AFP that "slices of ham were spread on the steps of the entry and two crosses painted on the walls." "This is the same group wanted to celebrate the anniversary of the degradation of the mosque last year," Zekri estimated, confirming that a complaint was filed.
Zekri expressed his support for the Muslim community in France, calling on them to stay calm against these provocations. He recalled that Islam has nothing to do with the horrors committed in Iraq against the Christian community.
Early in 2013, a report of "l'Observatoire de l'Islamophobie" found a recent increase in anti-Muslim acts in France, a growing phenomenon that concerns the French Council of the Muslim Faith (CFCM). "At least 50 anti-Muslim acts have been registered by the police and gendarmerie for the first quarter of 2013, up from 40 during the same period in 2012, an increase of 25%," the document says.
France does not have official statistics on the actual number of Muslims living in its territory, because the law prohibits any statistics on religious criteria Still, Islam is considered the second largest religion in the country after Christianity.
Morocco World News, 19 August 2014
See also "Tags nazis, tranches de rôti de porc : nouvelle mise en scène islamophobe devant la mosquée de Cognac", Collectif contre l'Islamophobie en France, 18 August 2014
And "L'évêque d'Angoulême condamne les actes islamophobes contre la mosquée de Cognac", Sud Ouest, 19 August 2014