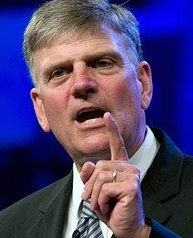 The son of Billy Graham who now heads his father's evangelistic organisation has described Islam as a "religion of war" and urged Christians to attempt to convert Muslims to their own faith.
Franklin Graham, the fourth of Billy Graham's five children, said he had not softened his stance since he controversially referred to Islam as a "very wicked and evil religion" in the wake of the 9/11 attacks in 2001 that brought down the World Trade Centre in New York.
More recently, he criticised The Episcopal Church's National Cathedral in Washington for permitting its first Muslim prayer service. On his Facebook page he wrote: "It's sad to see a church open its doors to the worship of anything other than the One True God of the Bible who sent His Son, the Lord Jesus Christ, to earth to save us from our sins."
His views contrast with those of the Pope, who on his recent three-day visit to Turkey was moved to pray alongside Grand Mufti Rahmi Yaran in Istanbul's Blue Mosque. Beside working to build better relations with Muslims, Pope Francis is also reaching out to evangelicals, a move which came about because of his friendship with the late Bishop Tony Palmer, a charismatic of the Communion of Evangelical Episcopal Churches.
Franklin Graham told Christian Today that his own views on Islam remained the same as in 2001. "I have not changed my opinion at all." He said he looked at Islamic State, at the Taliban and Boko Haram and thought: "This is Islam. It has not been hijacked by radicals. This is the faith, this is the religion. It is what it is. It speaks for itself."
He added: "I think it is very important that we do all that we can to try to share God's love with Muslims because they have no hope outside of dying in Jihad. I want them to know, you do not have to die for God. God died for us. He sent His Son to die for us. We do not have to kill ourselves to please God. I want them to know that they can have eternal life."
Islam itself had not changed at all in 1500 years, he added. "It is the same. It is a religion of war."
He said he was "sad" that Muslims in the Washington cathedral had "turned their back on the Cross" to worship "another God". Graham said: "The God of Islam is not the same God of the Judaeo-Christian faith. "The God that we worship in Christianity is a God that has a Son. To Islam, that is blasphemy, to say that God has a son. Therefore, they do not worship the God that we worship."