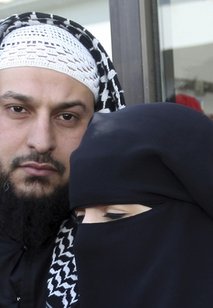 NANTES, France — A French court has annulled a fine given to a woman driver wearing an Islamic face veil, months before a ban on wearing the garments goes into effect.
Traffic police in the city of Nantes fined 31-year-old Sandrine Mouleres €22  in April, saying she did not have a clear field of vision, but the court quashed the fine Monday.
Jean-Michel Pollono, Mouleres' attorney, said the court in Nantes had ruled "we are in a free country, and as a result, everything that isn't forbidden is allowed."
The initial fine drew widespread attention amid a nationwide debate over the place of Islamic veils. In September, the French parliament agreed to a ban on face-covering veils – such as the niqab or burqa – from being worn in public. The ban goes into effect in spring.