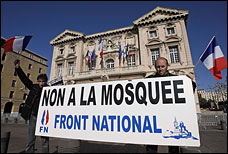 A French court Thursday cancelled a construction permit for a mega-mosque in the southern city of Marseille that had been touted as a potential symbol of Islam's growing place in France.
The city's administrative tribunal ruled the project, which had already been under suspension for 18 months, would have to be cancelled because of failures to meet urban-planning requirements.
It raised particular concerns over the project's failure to finalise a deal for a 450-place parking lot and to reassure planners that the mosque would fit with the urban environment. The tribunal noted "a lack of graphical material permitting the evaluation of the project's integration with neighbouring buildings, its visual impact and the treatment of access points and land."
The project was granted a permit in September 2009 but construction was suspended following complaints from local residents and businesses.
The 22-million-euro ($31-million) project would have seen the Grand Mosque, boasting a minaret soaring 25-metres (82-feet) high and room for up to 7,000 worshippers, built in the city's northern Saint-Louis area. Originally scheduled to open next year, it would have also hosted a Koranic school, library, restaurant and tea room.
Muslim leaders in the Mediterranean city had hailed the approval of the project as a key step in recognising the importance of Marseille's large Muslim community.
France's second city is home to an estimated 250,000 Muslims, many of whom flock to makeshift prayer houses in basements, rented rooms and dingy garages to worship.