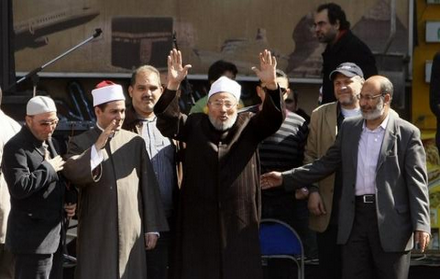 Qaradawi addresses mass rally in Tahrir Square in February last year
The French government will deny entry to an influential Egyptian preacher if he accepts an invitation from an Islamic organisation to visit France next month, a close aide to President Nicolas Sarkozy said on Sunday.
Sarkozy, who is running for re-election, has announced a crackdown on people who follow extremist Islamic messages on radical websites in the wake of a spate of killings by an al Qaeda-inspired gunman.
His aide, Henri Guaino said the government would take measures to block the entry of Sheikh Yousef al-Qaradawi if he seeks to take up the invitation from the Union of French Islamic Organisations (UOIF), a Muslim umbrella group.
"The French government does not want any extremist preachers entering its territory," Guaino, a special advisor and speech writer to Sarkozy, told French Radio J.
So France has just suffered appalling terrorist attacks by an alienated young Muslim who claimed to be inspired by al-Qaeda. And the French government responds … by banning the Muslim world's most prominent and influential opponent of al-Qaeda from entering the country. Just brilliant.
For the benefit of its readers who may not have heard of him, France Soir explains: "Yusuf al-Qaradawi is considered even more dangerous that Osama bin Laden and is already banned from the United States, Britain and Israel."
Update:  See "Sarkozy to bar radical imams from entering France", Reuters, 26 March 2012