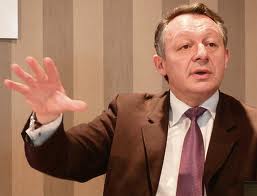 France's new sports minister Thierry Braillard has backed the French Football Federation's decision to uphold their ban on headscarves for players despite pressure from FIFA.
Last Sunday on beIN SPORTS, FIFA president Sepp Blatter declared the FFF had no choice other than to follow his organisation's directive that women players should be allowed to wear head coverings during official games.
The FIFA ruling is contrary to French law, however, with all signs of religious affiliation, regardless of the denomination, banned in official state-connected institutions.
"The position taken by the FFF and its president Noel Le Graet has our wholehearted support, because it would be necessary to remind Mr Blatter that the French state has declared its attachment to the values of the Republic and that Republican principles, notably the principle of an entirely secular state, are in force in sporting arenas," the freshly appointed Braillard told RTL.
"It's the Republic that we're defending in defending the position of the French Football Federation. Our commitment to the principles of secularity are a pillar of our constitution. It seems normal the government shows its backing for the position taken by the French Football Federation."
The FFF's stance is less popular among women players of religious denominations that require the wearing of a headscarf in France. Abdelak Haraga, president of the Le Petit Bard club in Montpellier, told RTL a match his team was due to play at Beziers had been called off because his players were wearing headscarves.
"Simply, they would like to have a certain freedom of thought, the freedom to dress themselves," said Haraga, whose club takes part in a 20-team league outside the auspices of the FFF in which women players can play with their heads covered. "I don't think there's a real religious fundamentalism. That's not at all the case."