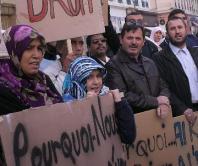 The French government dismissed a top regional education official Wednesday for vigorously opposing a new Muslim school and publicly complaining about pressure from Paris to stop obstructing its opening.
The Al-Kindi high school, in a suburb of Lyon in eastern France, finally admitted its first 22 pupils on March 5 after an eight-month struggle with Alain Morvan, the head of the school board. The struggle ended only when Paris intervened to permit the school to open.
A government spokesman, Jean-François Copé, said Morvan was replaced because "his behavior was not that of a senior official, whose task is to carry out government policy."
Morvan's stubborn campaign had become a sore point for French Muslims, and they accused him of Islamophobia for refusing them the right to begin a religious school although about one-fifth of all high schools in France are private, mostly Catholic.
In rejecting three requests to open the school, Morvan accused its founders of being "fundamentalists" and said he would sign refusals to open it "down to the last drop of ink."