The Financial Times has published a profile by Roula Khalaf of Fabien Engelmann, a leading figure in the Front National who in March this year was elected mayor of Hayange in northeastern France.
Engelmann is described as a "one-time leftist union activist". But that isn't the half of it.
He is a former longtime militant in the revolutionary socialist organisation Lutte Ouvrière, which he joined in 2001 and remained a member of until 2008, when he contested the municipal elections as an LO candidate. Engelmann then left LO and joined another far-left organisation, the Nouveau Parti Anticapitaliste. He broke from the NPA in 2010 in protest at its decision to stand a hijab-wearing Muslim woman candidate, Ilham Moussaïd, in that year's regional elections.
Having gravitated to the far-right "secularist" organisation Riposte Laïque – led by another ex-Trotskyist, Pierre Cassen – Engelmann joined the FN later in 2010, becoming a member of its political committee and an adviser to Marine Le Pen.
Roula Khalaf writes:
As you would expect, Mr Engelmann has strong views about immigration and the supposedly menacing Islamisation of French society. His problem is the Kosovar and Albanian migrants housed in the town and living on benefits. They are, he says, a "new immigration", families that produce five to seven children, feed off the French state and want to impose a "middle ages dogma and a religion that is not ours".
Engelmann retains his links with Riposte Laïque, who earlier this year published his memoirs, Du gauchisme au patriotisme, with a preface by Pierre Cassen. For both Engelmann and Cassen, the warped version of secularism that prevails in France, and has infected a large section of the French left, provided the ideological pivot around which they have swung from revolutionary socialism to the racist right.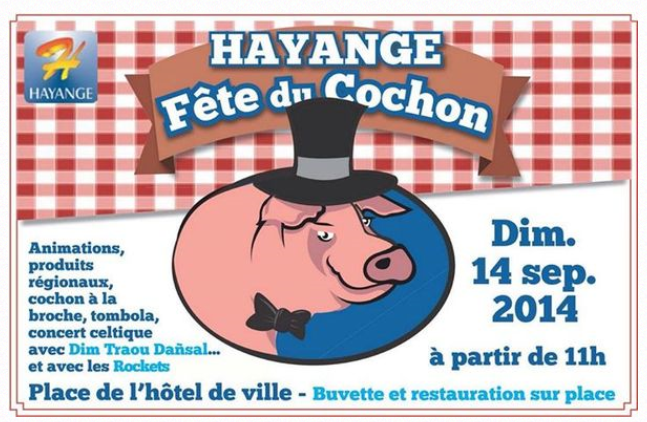 Fête du cochon – one of Fabien Engelmann's initiatives as mayor of Hayange