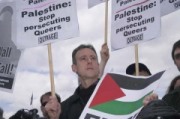 Peter Tatchell has been caught up in a war of words with British Muslims, who have accused him of "Islamophobia".
In an article written for Guardian Unlimited, Tatchell argued that Muslims often failed to make the distinction between legitimate criticism of Islam and insults against their faith. He singled out hardline groups such as Hizb ut-Tahrir (HuT), which "used to openly call for the killing of gay people" and said that HuT's agenda was one "for clerical fascism".
Citing a Channel 4 poll, where two-thirds of British Muslims said they oppose free speech if it offends their faith, Tatchell wrote: "They want to make it a crime to cause them offence they want privileged legal protection against criticism of their beliefs."
Tatchell's comments were attacked by the LGBT Muslim group Imaam. Farzana from the group told GT: "We feel that OutRage! doesn't understand our cultural and religious sensitivities. Often, the way they word and phrase their press releases can and does antagonise Muslims. Much as we've invited them to meetings so we can talk about the best way to tackle Muslim LGBT issues, they insist on doing things their way."
The debate was addressed on a strand on Imaan's messageboard, titled "Homophobia & Islamophobia". One posting reads: "Why is it that we, as gay Muslims, are so willing to attack the people that stand up against the homophobic Islamic clerics, who call for our death, by calling them Islamophobic, yet are too afraid to go out there and stand up and be counted?"
Gay Times, December 2006
---
In fact, the dispute between Imaan and OutRage! was provoked not by Tatchell's piece at the Guardian's Comment is Free but by an OutRage! press release denouncing Arshad Misbahi of Manchester Central Mosque for supposedly telling an LGBT activist named John Casson that he supported the killing of gay men.
As for the concluding quotation backing Tatchell, it turns out that it is from a post by Aaron Saeed, a member of OutRage! As a glance at the Imaan discussion forum reveals, Saeed's contribution was unrepresentative and the weight of opinion was overwhelmingly against Tatchell. Here are some typical quotes:
"As a gay Muslim, I am sick and tired of middle class, middle aged white men like Tatchell and Casson telling people like me what we should do and how we should react while they're going around kicking Muslims in the teeth."
"Peter I have to completely disagree with you. You say you do not want to stoke anti-Islamic feeling but when you hear increasing anti-Muslim rhetoric in the gay press you have to ask yourself how Outrage has contributed to it. In my opinion and given all of the press releases sent out by Outrage I have to say as a Muslim and as Imaan chair that your press releases stink of anti-Islamic insinuation that the media (inc the gay media) reeks of these days. Imaan will not aide and abet this sickening wave of Islamaphobia and does not take kindly when it is dressed up as gay rights. I think its a crude way of fighting and makes our job harder."
"Peter, you either don't understand or don't care that the methods/wording that Outrage employs offends Muslims. We are Muslims. You either don't understand or again don't care that the UK is experiencing a wave of Islamaphobia and that has huge implications and impacts ALL Muslims including us."
"Nick Griffin has always maintained that Islam is a 'wicked, vicious faith' Peter, statements which are not far removed from yours, if not the same … you have a narrow, confrontational way of doing things where gay rights trump all other rights and d**n everyone else if they are injured in the process. So you'll campaign against Muslim private law courts in Ontario for example, even though Jews and Chrsitians have them. For you, Sharia means stoning people to death. For you, the idea of a Caliphate is a barbaric regime which does the same. You'll protest when the MCB speaks at a United Against Fascism rally. For you, the hijab is a symbol of totalitarian Nazi oppression. And so on and so forth. In fact, all the things that right-wing commentators would agree with, including the BNP. You lend legitimacy to them."
"Just recently Outrage seems to have jumped on Islam as the only current enemy to your cause and in the current atmosphere of Islamophobia … it's really unhelpful. Whether you intend it or not you are helping stoke a very dangerous fire and it worries me that however many people (most of them the LGBT Muslims you claim to be concerned about) tell you this, you don't seem able to accept it."