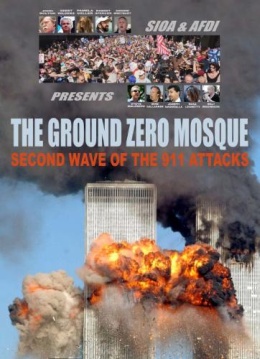 Furor over the so-called "Ground Zero Mosque" has long since died down, but a group of conservatives has refused to let the issue drop.
A new movie titled "The Ground Zero Mosque: The Second Wave of the 911 Attacks" is set to premier at the 2011 Conservative Political Action Conference (CPAC), and it hopes to put the planned Park51 Islamic cultural center back in the spotlight.
Two groups that underwrote the film, Stop Islamization of America (SIOA) and American Freedom Defense Initiative (AFDI), describe it as a "documentary."
A poster for the movie includes a large image of the World Trade Center at the moment it was hit by the second airplane to meet its target during in the terrorist attacks of Sept. 11, 2001.
"The Ground Zero Mosque has become a watershed issue in our effort to raise awareness of and ultimately halt and roll back the advance of Islamic law and Islamic supremacism in America," AFDI/SOIA director Pamela Geller said in a statement.
She continued: "This is the first documentary that tells the whole truth about the Ground Zero mosque. Be prepared to be shaken to your core. This movie rips the mask off the enemedia and the malevolent role they play in advancing and propagandizing the objectives of America's mortal enemies."