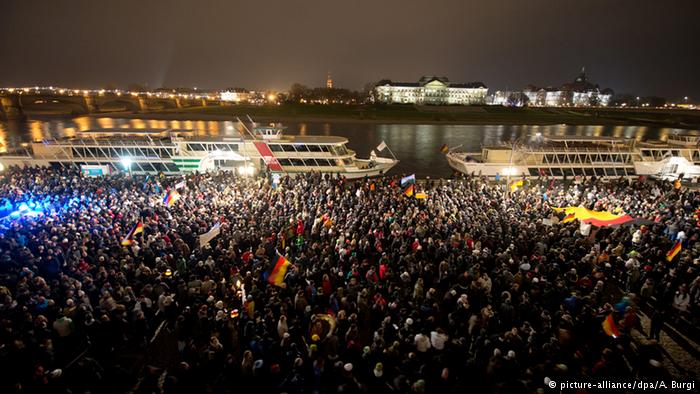 PEGIDA demonstration in Dresden on 1 December
The eastern German city of Dresden is bracing itself for one of the biggest far-right marches the country has seen in years. City officials said Friday that organizers have told them 8,000 people will take part in the protest, which is billed as a march against Islamic extremism.
Monday's protest is organized by a group called PEGIDA, a German acronym for 'Patriotic Europeans against the Islamization of the West.' Experts say the group has managed to attract people who wouldn't normally associate with the far right, by banning any neo-Nazi symbols or slogans and trying to present themselves as a mainstream movement. But past protests have drawn praise and support from neo-Nazi groups and far-right parties, including the National Democratic Party.
Over the past two months PEGIDA has organized seven protests in Dresden, growing from 200 at the first march to 7,500 people at the start of this week. Speakers at those events have focused on the rising number of asylum seekers and the threat posed by radical Islam, even though the state of Saxony, where Dresden is located, has comparatively few Muslims.
Authorities have so far taken a hands-off approach. Security officials said they aren't paying significant attention to the protests since there is no sign they pose a threat to public order or the state. Dresden police spokesman Thomas Geithner said previous PEGIDA protests had been largely peaceful.
Meanwhile, student groups, political parties, Dresden's Jewish community and the city's mayor have urged citizens to join a counter-protest Monday for peace and tolerance. "In this heated discussion many people forget that Dresden and Saxony have profited from migration and asylum for centuries," said mayor Helma Orosz.
A demonstration against Islamic extremism in the western city of Cologne erupted into violence in October, with 49 police officers injured.
Associated Press, 5 December 2014
Update:  See "Anti-Islamist protests with right-wing ties expand in Germany", Deutsche Welle, 7 December 2014