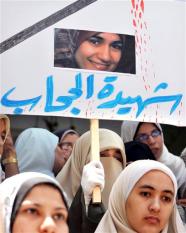 A man has been sentenced to life in prison after being convicted of murdering a pregnant Egyptian woman in a German courtroom. The Dresden state court also ruled that Alexander Wiens would not be eligible for early release.
Wiens, 28, admitted stabbing Marwa Sherbini to death at a court hearing involving them both in July. The crime sparked outrage across the Muslim world. Egypt said justice had been served with the sentence.
Wiens, a Russian-born German citizen, had argued his action was not premeditated. But prosecutors at the trial, which took place amid tight security, insisted he was motivated by a "hatred of non-Europeans and Muslims".
See also the Times, 12 November 2009