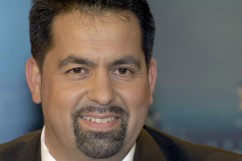 A German Muslim leader on Saturday called for better protection of mosques across the country in the wake of the latest arson attack on Berlin's largest mosque, IRNA office in Berlin reported.
Talking to reporters, the Chairman of the Central Council of Muslims Aiman Mazyek said, "Rarely does a week go by without an attack on a mosque." "The current terror hysteria exacerbates this climate … and strengthens those people who plans such attacks," he added.
Mazyek was referring to Friday's arson attack on the Sehitlik mosque, the fourth of its kind on the worshipping house over the past six months.
The Muslim activist lambasted also Berlin's interior senator, Ehrhart Koerting for suggesting that Arabs based in Germany were potential terror suspects. Mazyek urged Koerting to step up the protection of mosques in Berlin instead of making such 'imprudent' statements.
---
Last week, in connection with the current terror alert in Germany, Ehrhart Koerting advised Berlin residents to notify officials if they encountered new neighbours who were "strange-looking" or "only speak Arabic or another foreign language that we don't understand". As Die Welt observed: "Such neighbours certainly could not have been the terrorists behind the September 11 attacks. They were very Western in appearance and spoke good English or German."
See also "Muslims victim of suspicion in Germany, says leader", DPA, 20 November 2010