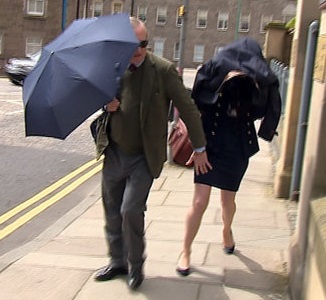 A German princess hurled abuse about killing Muslims after drunkenly trying to strip off at a St Andrews beer festival, a court heard.
Her Serene Majesty Theodora Sayn-Wittgenstein – known to friends as Thedi – struggled with police at the Oktoberfest charity event on Kinkell Farm in March, thinking she was being kidnapped. The 27-year-old – who attempted to disguise herself from waiting journalists at Dundee Sheriff Court on Thursday by wearing a wig – was fined a total of £1,000 after admitting four charges.
The court was told Sayn-Wittgenstein had graduated in 2011 from St Andrews University and had returned to the town for a reunion weekend. Security guard Damon Creevy saw the accused at 11.30pm climbing railings at the event, while shouting and removing some of her clothing. When he asked her to replace her clothing and climb down, she refused. She eventually calmed down and was taken to the nearby first aid room.
Fiscal depute Trina Sinclair said: "A security guard, assisted by a first aider, Farah Hussain, tried to replace some of the accused's clothing. The accused became aggressive and stated 'I was doing my nails this morning, I was wondering how many Muslims I could kill'." Miss Hussain left the room in tears, while Sayn-Wittgenstein stood on a chair and began to shout about her human rights.
Ms Sinclair said: "Cara Anderson stood behind her trying to stabilise the chair she was standing on but she fell on top of Miss Anderson. The accused began to thrash and struck her several times. She then kicked witness Creevy to the chest and attempted to headbutt Miss Anderson.
"When police arrived they found the accused on the floor in an arm lock and with her legs being held down by security. She was handcuffed but her demeanour didn't change. She kicked and lashed out and leg restraints were applied."
The accused later told police that she had been "scared" and thought she was being kidnapped. Douglas Williams, defending, said Sayn-Wittgenstein had "brought shame on herself and her family" and the whole experience had been "extremely unnerving."
He said: "Her behaviour was totally out of character – she has a degree in international relations and has lived in Jordan, immersing herself in Middle Eastern culture. She accepts she made the comments described and that is of particular concern to her – she has no disposition against any group."
Sayn-Wittgenstein, who lives in Germany but whose address was given as Elm Park Road in London, admitted assaulting Cara Anderson and Damon Creevy on March 8. She also admitted struggling violently with two police officers and committing a religiously aggravated breach of the peace by making comments about killing Muslims.
Fining Say-Wittgenstein a total of £1,000, Sheriff Mark Stewart QC told her: "I deal with you in the same way as I would deal with anyone who behaves in this way. These comments you made are unacceptable – they would cause nothing but division, concern and unhappiness."
Sayn-Wittgenstein made no comment as she left court with her father Prince Ludwig, who shielded her from photographers with an umbrella.
See also "German princess racially abused first aider at posh university party", STV, 26 une 2014