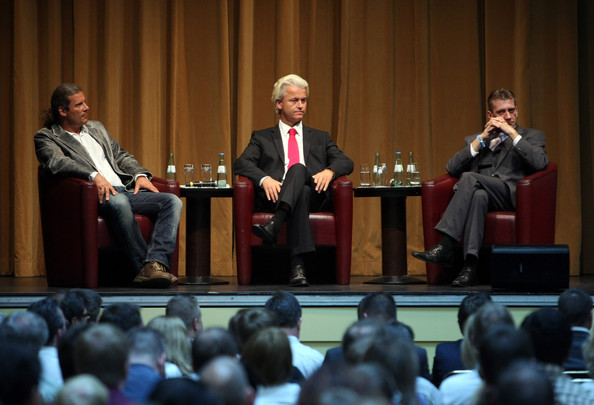 Wilders on the platform with Oskar Freysinger of the Swiss People's Party and (right) René Stadtkewitz of Die Freiheit
Dutch populist MP Geert Wilders has hit out at both the EU and Islam at a small far-right German party in Berlin.
Amid tight security, the Dutch anti-Islam politician spoke at a gathering of Die Freiheit, led by René Stadtkewitz, widely seen as the German version of Mr Wilders' Freedom Party. Mr Stadtkewitz accuses the German Chancellor, Angela Merkel, of selling Germany to Europe. He also claims that most of Germany's unemployed come from Muslim countries.
In his speech, Mr Wilders attacked the European Union and Islam, which he described as the two biggest threats. He stressed, however, that "Breivik is not one of us". He was referring to the Norwegian far-right extremist Anders Behring Breivik who invoked Mr Wilders as an inspiring example after killing 77 people in twin attacks in and near the capital Oslo in July. "We reject violence, we are democrats, we believe in peacefulness, we reject Islam for its violent character," Mr Wilders said.
The meeting was attended by 600 people, far fewer than expected. Police had cordoned off the area around the hotel where it was held. Several hundred demonstrators protested against the meeting.
Die Freiheit had originally tried to charge €100 a seat for the meeting. Unable to attract sufficient interest at that inflated figure, the organisers were forced to slash the price to €5 in an attempt to fill the 1,000-capacity venue. All in vain, it would appear.