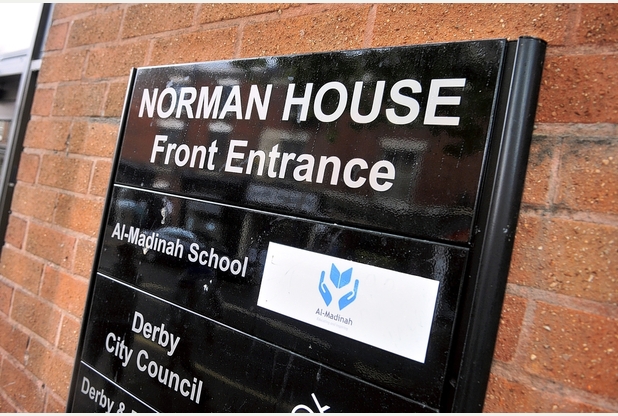 A new parents' group set up to support Derby's failing Muslim free school is to petition the Government for time to turn the school around.
The Parents and Friends of Al Madinah School has been formed following a meeting of mums and dads last weekend in the wake of a damning report by Ofsted – the Office for Standards in Education. It called the school, which has sites in Nelson Street and Friar Gate, "dysfunctional", "in chaos" and "inadequate", placing it in special measures.
Schools Minister Lord Nash had already given the school until November 1 to come up with an action plan to make improvements or face having its funding cut and closure.
Parent Abdul Ghafar said: "We feel very much let down by the Government. It seems our children are not being treated like children from other state schools in the area, which are also in special measures. We request that the Prime Minister shows he really does care about our children and gives this school more time and support to get things right."
Parents will be attending meetings over the next few days to launch a campaign based on giving the school time and support to deliver the changes required. Mr Ghafar said: "We expect more than 200 parents to attend and we aim to have a petition with thousands of signatures of support. We are not prepared to let this school close."
The petition reads: "This is a petition by the parents and friends of Al-Madinah Free School, Derby.
"We strongly believe that this school should be given the same opportunities and support to improve as other state schools locally and nationally, when they are under special measures.
"We have confidence in the governors and staff to achieve this, God willing. We believe this free school, given time, has the potential to become an outstanding school."
Derby Telegraph, 23 October 2013
The media campaign against the Al-Madinah School has concentrated on accusations that it was pursuing some sort of dangerous Islamic fundamentalist agenda, discriminating against female students and posing a threat to social cohesion.
However, the findings in the Ofsted report actually run counter to the portrayal of the school in the tabloid press, although this aspect of the investigation has been completely ignored by the media.
Ofsted found that "There is a clear vision for the purpose and place of this school in the community." Far from pursuing an isolationist or sectarian approach:
"Religious Education lessons follow a locally agreed syllabus that enables pupils to learn about the six major world religions, helping pupils understand how people of different faiths can live together. For example, some pupils from this school have visited a nearby Catholic school where they talked about their respective faiths and asked questions of each other. One girl told inspectors that 'we learnt that lots of things are the same about our two religions'. Pupils from this school presented the pupils from the Catholic school with a Qur'an and received a set of rosary beads in return."
Ofsted "saw no evidence during the inspection of boys and girls being treated unequally". With regard to arrangements for lunch the report says: "Due to limited canteen space, boys and girls have their meals separately, taking it in turns to eat first."
As for the charge, widely reported in the press, that female students were required to sit at the back of the class, Ofsted states: "In class, younger pupils work well together in mixed-gender groups much of the time. Older pupils are seated with boys on one side of the class and girls on the other."
Among other strengths identified by Ofsted are that "Pupils feel happy in this school" and "Good relationships exist between pupils and between pupils and staff".
The "damning" findings by Ofsted relate overwhelmingly to the poor quality of the education, along with more general problems of governance at the school. Ofsted explains this, not as the result of the pursuit of some fundamentalist agenda, but on the basis that "This is a school which has been set up and run by representatives of the community with limited knowledge and experience".
Some of us would argue that this illustrates one of the many problems with the whole "free school" programme which has been pushed so enthusiastically by Tory education secretary Michael Gove. But it has little to do with the religious character of this particular free school.