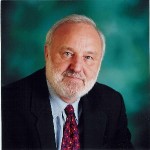 MPs supportive of the government during the Commons debate on the Racial and Religious Hatred Bill included Frank Dobson who said:
"I do not believe that anyone – Rowan Atkinson or anyone else – needs the right to incite hatred against someone because of their religion. He has apparently said that we should look at things from the point of view of the comedian. Other people in the world are just as important as comedians. Muslim women who have been assaulted, abused and spat on for wearing the hijab are as important to me as Rowan Atkinson, for all his sense of humour."
Not so sure I agree with you about Rowan Atkinson's sense of humour, Frank, but otherwise – spot on.